The John H. and Cynthia Lee Smet Foundation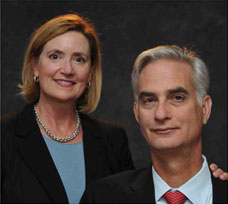 When John and Cynthia Lee Smet established their family foundation in 1992, its goals reflected the Smets' broad interests in a variety of charitable causes: religious, scientific, literary and educational. More recently, the Foundation has focused primarily on education, in large part because the Smets recognize and appreciate the many ways that education shaped their lives at work, at home, and in the community. With that in mind, they aim to give the gift of an excellent education to as many young Angelenos as they can.
Catholic education, which offers a balance of academic rigor and Christian values in nurturing school environments, has been an area of special interest for The Smet Foundation. There are two primary programs wherein The Smet Foundation partners with Catholic Schools in Los Angeles: the Onward Readers initiative and the Onward Scholars Program at St. Pius X – St. Matthias Academy in Downey.
Given that the ability to read well is the key to accessing other academic content, the goal Onward Readers is to give students a sound foundation by ensuring that they can read at or above grade level. It also supports literacy for toddlers and their caregivers in a weekly early literacy program and continues in a more structured fashion in kindergarten through sixth grade. In the first year of operation, Onward Readers was proud to partner with Our Lady of Victory Catholic School (Compton), St. Aloysius School, San Miguel Catholic School, and School of Santa Isabel. In its second year of operation, Onward Readers partnered with Nativity School (Los Angeles), Our Lady of Guadalupe School (Hazard), and St. Bernard School, and along with all four pilot school sites. In its third year of operation, three additional school sites joined the initiative: Dolores Mission School, Our Lady of Talpa School, and St. Odilia School. The Onward Scholar Program is a comprehensive scholarship program open to 12 outstanding freshman entering St. Pius X – St. Matthias Academy (PMA). In addition to having 75% of their tuition covered, Onward Scholars participate in cultural and leadership activities. During their tenure at PMA, the Onward Scholars must maintain a strong GPA, complete internships and extensive Christian or community service. For more information on The Onward Scholars Program, visit http://www.onwardscholars.org/.
The John H. and Cynthia Lee Smet Foundation supports a number of other educational initiatives and organizations in the region, including the tuition assistance program of the Catholic Education Foundation, Camino Nuevo Charter Academy in the MacArthur Park area of Los Angeles, The California Science Center, The Natural History Museum and Vistamar School in El Segundo. The Foundation regretfully cannot consider unsolicited proposals, preferring instead to initiate projects at a small number of organizations over a sustained period of time in order to effect meaningful change. For more information about The Onward Scholars Program or the John H. and Cynthia Lee Smet Foundation, write to P.O. Box 625, Hermosa Beach, CA 90254.